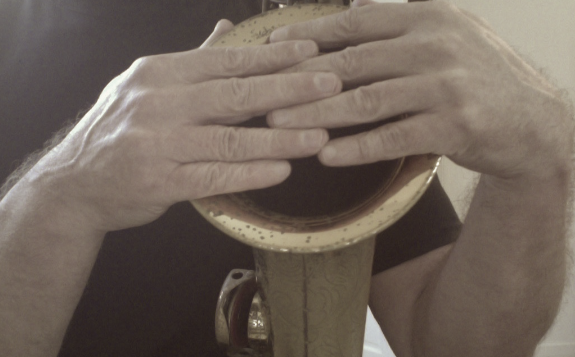 …a beautiful human phenomenon.
It is as equally complex as it is immediately expressive and natural.
I've been seriously studying improvisation for over 40 years, and consider the process of improvisation to be one of the greatest blessings of my life.
As a musician, I see myself as an improviser first and foremost, and secondarily as a tenor saxophonist. (I take my role as saxophonist quite seriously, just so you know!)
And though I enjoy playing jazz (and many of the sub-genres within and associated with jazz), I have also studied and enjoy lots of other types of improvisation, from open-ended time-based improvisation, to purely textural, "out-of-time" modern classical expressions, to a variety of other musical traditions that are improvisation-based (like Balkan music, for example).
My "definition" of what improvisation is continues to change the more I study, and the older I grow.
After reflecting upon it this week,  I thought I'd share what I currently consider musical improvisation to be (for me, that is) in the simplest sense of the word :
Improvisation is the act of spontaneously discovering melodies, and experiencing how these melodies relate to one another, across time.
Spontaneously discovering  melodies. That, for me, is something that is at the same time thrilling  as it is reassuring.
Thrilling, because…well, there is virtually nothing more energizing to me than my (subconscious) muse manifesting itself to my conscious self. It's a process of self-discovery that expands and integrates me as a whole being.
Reassuring, because it is a true principle that I can rely upon to bring me these thrilling experiences.
And I say that this is my current definition in the" simplest sense", because when playing with other musicians, this definition simply must expand, by design.
It then becomes a matter of "discovering" these melodies as they manifest themselves in communicating  with the other musicians with whom I'm improvising.
My muse both impacts, and is impacted by, a beautiful process of sub-verbal communication with these other human beings. (The similarities between music and speech are stunningly obvious here!)
And I also have a very clear aesthetic principle (an aim, as it were) that seems to arise within me whether practicing improvisation, or actually purely improvising, no matter the context or style:
I aim for freely melodic play.
Freely authentic, freely melodic (as defined, ultimately, by me) and always playful and curious, no matter how "serious" the music may be.
And of course the process of "spontaneously discovering melodies" is (and continues to be) the result of lots and lots of conscious study  and intention  as an improvising saxophonist. Lots of focused, well-organized study and explorations of the "materials of music": rhythm, harmony, form and meter, to be most specific.
(In fact, the e-books that I've made available are really just documentation of some of the areas I've put serious study in as an improviser.)
To move in the direction of allowing my subconscious to speak freely requires lots of regular practice in order for me to be able to immediately call upon the materials of music I've spent so much time working with.
This is of course necessary in order to transcend any kind of self-conscious "agenda" when improvising. Being "freely available" to follow and release my muse is my wish.
But being freely available to my muse also requires lots of reflection, listening (to myself and legions of  great improvisers and interpretive musicians) and reassessment and redirection of effort.
Trusting my ears, and learning how to "move" around my instrument as I utilize the materials of music to take me there…
If you're new to improvising, you (like me when I started) might be approaching the study of improvisation as a process of acquiring lots of licks and patterns that you can memorize and call up as you blow over a tune.
That's a fine place to start. And making choices about when and how to use your memorized licks is certainly within the process of improvisational expression. (You are making spontaneous, in-the-moment choices.)
But at a certain point, you'll discover yourself playing things that you've never played before. Maybe only slight variations on a lick that you've memorized. But most decidedly different from the actual lick. (Or maybe something that you've never even heard before!)
Where do these things come from?
They'll be coming from a very deep and natural place within yourself. That's your music. That's your melody. That's you. Uniquely you.
Once you discover that, there's no turning back.
But wherever you are along the path in studying improvisation, I encourage you to trust yourself, warmly invite your muse, welcoming whatever comes out of you when you play. And study, listen, question (be confused sometimes, even!), and enjoy your continued journey of self-discovery and expression. Such a gift, improvising is!